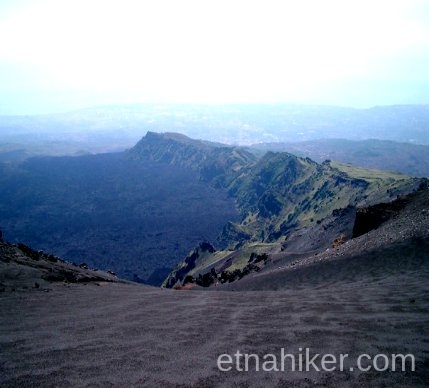 The Bove Valley is a unique place, and partly of geological interest. We are inside a caldera, an horseshoe-shaped amphitheater, a place of continuous transformations caused by continuous erosions, and center for the pouring of the recent lava flow of Etna.
The departure takes place from the square of Rifugio Sapienza at 1800 mt. Once reached the 2500 mt by cable car we climb up the Montagnola 2640 mt from where we take the fun and charming downhill path of the Canalone della Riina.
Once down we walk through the lava flows of 1991/93, within a unique scenery. Following the southern ridge base of the valley we reach the Canalone dei Faggi. After a short ascent of the southern ridge of the valley del Bove the excursion end in Piano del Vescovo.
EQUIPMENT
Trousers, hiking boots, sweatshirt, long sleeve vest, short sleeve jersey, goretex jacket, leggings, bandana, gloves, cap, lunch bag, 2 lt water, hiking poles, sunglasses, sunscreen.
DIFFICULTY
Easy and enjoyable the excursion does not have any particular difficulty but it requires good physical condition because of the duration of the trek.
EXCURSION DURATION: 5/6 Hours
ASCENT: 450 mt
DOWNHILL GRADIENT: 1100 mt
COST: 45,00 € : price per person for groups of 6 people (cable car not included)