SUMMIT CRATERS FROM NORTH
50,00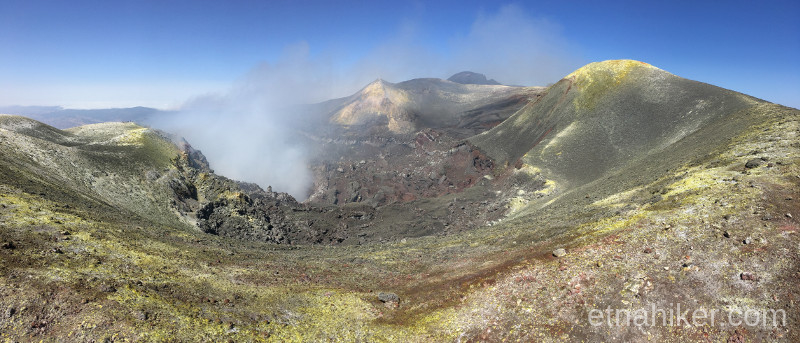 The most popular excursion for volcano lovers, a unique experience on the highest active volcano in Europe.
Meeting at the Piano Provenzana Etna Nord. By a special Jeep 4x4 we reach an altitude of 2840 meters. Thus begins the trek which, after crossing extensive lava field, will lead us up to an altitude of 3300 meters, the access point to the summit area of ​​ Etna. The times of stay are dictated by the volcanic activity in progress and by the weather conditions. Leaving the summit area, the itinerary includes a view of the Valle del Bove and return to Piano Provenzana after a long descent through beautiful and panoramic sandbanks.
N.B: Excursion of medium difficulty, requires physical effort given the type of terrain, altitude and difference in height. Reserved only for adults and children over the age of 11, especially accustomed to excursions lasting several hours. The excursion may be subject to variations due to adverse weather conditions or due to environmental reasons and / or volcanic risk
Technical data:

Durata escursione:
about 4/5 hours
Equipment:
Trekking boot, long trousers, sweatshirt, windproof jacket, gloves and hat, sunglasses, sunscreen, 1.5 L water per person, packed lunch. The price includes hiking boots.
Heart problems, asthma:
For those affected by these pathologies, it is "absolutely not recommended" to tackle any type of excursion activity, both at the lowest and highest altitudes.
Contact lenses
For all excursions, and especially those leading to the summit area, due to the constant presence of volcanic ash carried by the wind, the use of contact lenses in combination with sunglasses is recommended.
€ 50.00 (the price does not include transport services)
**** The guide has the right to interrupt the excursion for reasons that could compromise the safety of a single participant or the entire group.